Our version of Taiwan Beef Noodles 台灣經典紅燒牛肉麵
Oct 19,2022 | Isle Provisions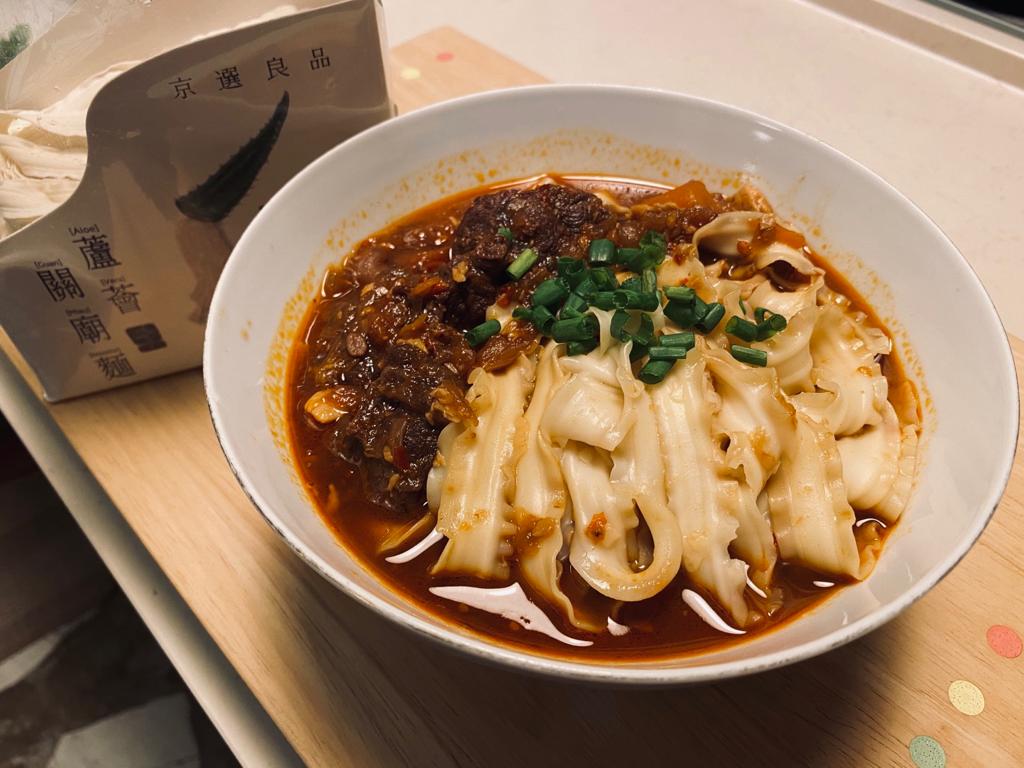 Beef noodles is a popular dish in Taiwan, however in Singapore, it is difficult to find the Taiwanese version of beef noodles. Why not make it yourself at home? This recipe is just how we like our Taiwanese beef noodles; hope you like it too!
Any noodles can be used actually ( except egg noodles/mee pok/ mee gia). We decided to use Guanmiao (關廟麵) noodles, with wavy sides. This gives the noodles some extra texture.

Ingredients
Beef tendon meat 500g cut
4-5 slices of ginger
1 onion
1 tomato
2 shallots
10 garlic slices
~6-7 tablespoons of soy sauce (amber soy)
2 tablespoons of rock sugar
2.5 Large spoon soybean paste (Mingde spicy bean sauce we use)
a little rice wine
800cc water
noodles (we use aloe vera noodles)

Spices:
Two anise stars
two bay leaves
two teaspoons of peppercorns or marinade

Steps
Stir-fry the garlic and ginger slices first, then add the shallots and Beef fry until golden brown.

Add onion and tomato and stir fry until onion becomes soft.

Add soy sauce, spicy bean paste, spices and stir well

Add water, rice wine and boil, then simmer on low heat for 1 hour

Turn off the heat, remove the spices and let it sit (preferably in a thermal or cast iron pot) for another 30 min.

Cook the noodles and strain them. Pour over the beef slices, broth and sprinkle with green onions.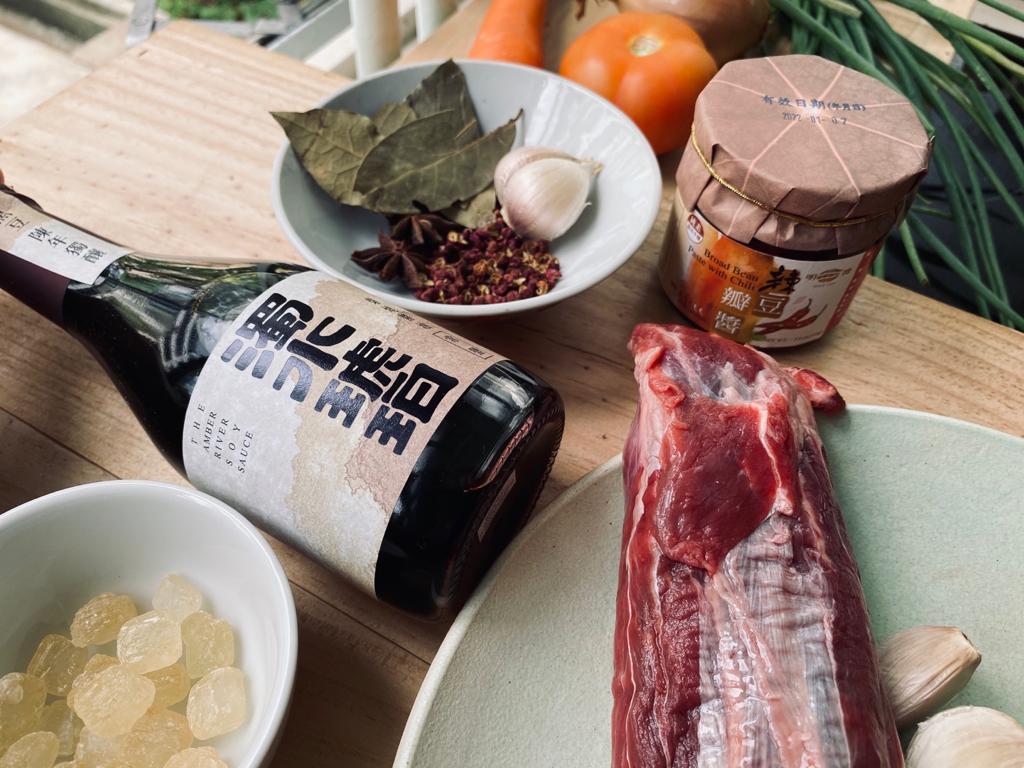 很多人想到台灣美食就一定會想到牛肉麵
在新加坡要找到好吃的牛肉麵真的不容易
想想為什麼不自己親手來做看看呢?
今天就要教大家如何在家完成好吃的經典紅燒牛肉麵
搭配上Q彈滑順的蘆薈關廟麵
輕輕鬆鬆就能完成餐廳等級的台灣美食-紅燒牛肉麵
需要準備的材料:
牛腱肉500g切塊、薑4-5片 、洋蔥1顆 、番茄1顆 、青蔥2隻切段 、蒜頭10粒 、醬油100g (我們使用的是濁水琥珀) 、冰糖兩大匙 、豆瓣醬2.5大匙 (我們使用的明德辣豆瓣醬) 、米酒少許 、水800cc 、麵條( 我們使用的是蘆薈關廟麵)
香料:
八角兩粒 、月桂葉兩片 、花椒粒兩小匙或滷包
Step 1
熱鍋蒜頭、薑片爆香再加入蔥段牛肉煎至金黃
Step 2
放入洋蔥、番茄拌炒到洋蔥變軟
Step 3
加入醬油、辣豆瓣醬、香料醬攪拌均勻
Step 4
加水、米酒煮滾後關小火燉煮1小時
Step 5
關火再悶半小時,撈起香料或滷包
Step 6
麵條煮好濾乾,將牛肉及湯汁淋上麵條撒上蔥花就完成啦!
Comment